Hidden Mountain, Secret Garden: A Theological Contemplation on Prayer by Dr. Anthony Lynn Lilles STD (Nov 23, 2012)
"Hidden Mountain Secret Garden: a theological contemplation on prayer" helps the reader discover the riches of mental prayer in the Catholic Tradition. In fact, the images of the "Hidden Mountain" and the "Secret Garden" are ancient metaphors for contemplative prayer, a kind of prayer that begins and ends in faith.
This book is especially for those whose prayer is a search for the loving eyes of One who has conquered death. This kind of prayer beholds the wonder of Christ's living but hidden presence in one's highest thoughts and most noble aspirations as well as in one's instinctual urges and deepest longings. The ecstasy of this kind of prayer extends beyond even the vast unexplored horizons of the human heart and opens to an immensity of such excessive mercy that all else is forgotten — and only love remains.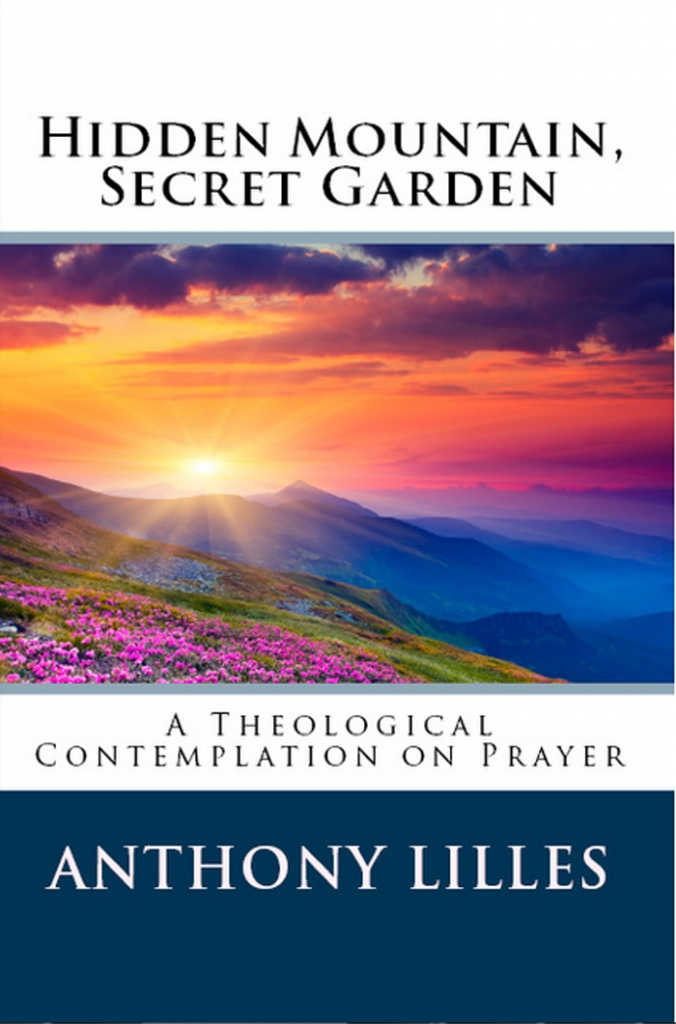 The whole world needs this love: it is the secret garden, the hidden mountain, the inexhaustible riches only prayer knows and an excess of grace only prayer can make known. This is why Blessed John Paul II told the Church not to be afraid to open wide the doors of our hearts to Christ and it is why He told the young people of the world to be proud to proclaim the Gospel of the Lord. For those brave souls who have faithfully open their hearts to the Lord through this discipline of this kind of prayer, every Christian owes you a debt of gratitude. For those who want to join them, this work encourages you along the way — for the journey you endeavor is at once the most perilous, the most heart-rending and the most wonderful adventure this world has ever known.
"Dr. Anthony Lilles has authored an introduction to prayer that is inspiring and encouraging. For those desiring to pray this is a resource that is full of practical advice – written simply and attractively. This book bears the mark of a man – husband, father and teacher – who is not only imbued with the wisdom of the Saints, but who has also, through his own prayer, learned how all of us can, through prayer, foster faith in and love for Jesus and his Gospel." THOMAS G. WEINANDY, O.F.M., CAP. Executive Director for the Secretariat for Doctrine United States Conference of Catholic Bishops

"This is a wonderful book. I've taught spiritual theology many years and I wish I had had this text to use. In fact, I wish I had written this book. It is scriptural, patristic, historical, theological, mystical, experiential and user friendly. Dr. Lilles takes us through the spiritual journey of prayer, citing Fathers and doctors, saints and even sinners to guide us on our Christian way toward contemplation. Weaving many themes into a harmonious whole, he opens up the life of contemplation for all Christians, our baptismal birthright in a way that is accessible and attractive. This is a book one will read more than once. FR. GILES DIMOCK, O.P., S.T.D University Parish of St. Thomas Aquinas At the University of Virginia

"In this book we find the real meat of the new evangelization. The church in America will not be renewed by "facts about Jesus" but only through one's choice to let Christ reach the heart and change it from within. It is an ancient message received by only few: Do not be afraid of letting go of what now defines you. Let Christ tell you who you are. Dr. Lilles is one of the ablest guides to lead us through to such a choice. Will I stay with knowledge about Jesus or will I enter the garden of prayer and finally come to know Him!! Do not be afraid to be loved, read this book. -DEACON JAMES KEATING, PH.D, Institute for Priestly Formation, Omaha, NE